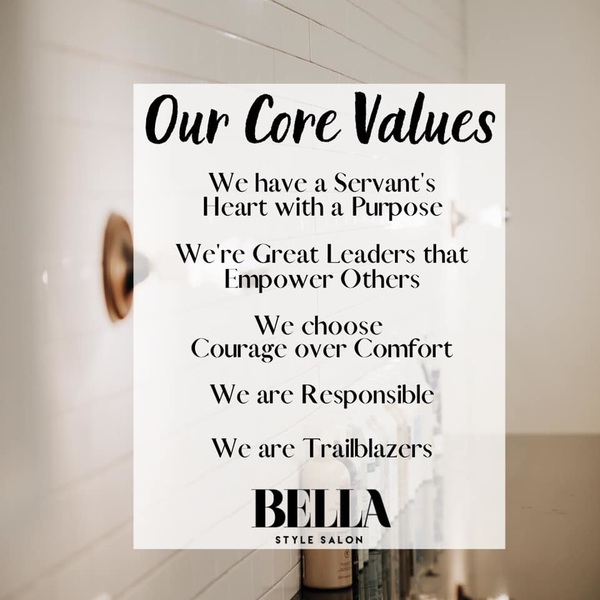 DISCOVER YOUR POTENTIAL. LOVE WHAT YOU DO.
We are looking for ambitious, driven and kind hearted people to work with. Skill is something anyone can acquire but good energy, work ethic, integrity and kindness is most important to our culture. 
"At Bella Style Salon, we travel the path less taken, we venture to live, persevere to grow, and dedicated to serving. Leading with full hearts, we commit ourselves to provide an unforgettable experience, where knowledge and compassion connect us to our guests. As a family, we strive to empower each other with the courage to transform our passions into careers."
If this sounds like you, we invite you to apply now.
A chic, multi-service hair & beauty salon looking for self-motivated team players with a servant's heart.
We have been selected by Salon Today as a Top 200 Salon in the country for 5 years running.
A really passionate group of women who love fashion and chase high levels of growth. We stand for each other's greatness while laughing together and enjoying a bomb cheese plate with a bottle of bubbles.
We offer a 4 day work week with a 5 day weekend every 3rd week = 35 HOURS a week
How we compensate: Hourly + Tips + Bonuses. Depending on your ethic, you can expect to make somewhere between $20,000.00 – $100,000.00 per year.
Someone who is outgoing, driven, and has a passion for the salon & beauty industry.
You're ready to advance your career with continuing education.
Someone with a professional attitude toward their work.
EXCELLENT customer service skills are a must!
Our company has positions available for Sales Team.
Learn More »